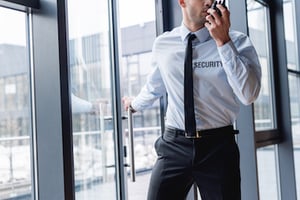 A lot of employers are trying figure out if advanced security is an effective way to protect their employees from workplace violence. Putting your entire workforce through an active shooter response training course seems a little too intense. It's not something employers want to even think about, much less ask their employees to participate in.
Security precautions seem like a much less invasive solution that would accomplish the same purpose: to keep violence out of your workplace. However, there is a difference between making your workplace secure, and training your workplace for safety. Simply put...
Security reduces risk of emergency.
Training responds in an emergency.
All of the security guards, metal detectors, outdoor cameras, and key codes for building entrances cannot beat the effectiveness of first response training. Why? Because security measures ward off potentially violent encounters, but if and when security is breached, your company needs a trained response plan.