PRESS RELEASE
Greenville, SC July 31, 2019 – In the fall of 2018, Anderson County District One Schools made what turned out to be a lifesaving investment. They gave every employee the opportunity to take part in Active Shooter Response Training from ProActive Response Group. The training included instruction on how to stop massive bleeding, and the value of the course became apparent on July 22, 2019.
Clayton Porter, a teacher in Anderson School District One, was alone in his garage working on a project when the electric saw he was using kicked back and sliced open his left thigh. While bleeding profusely, Porter was able to contact his wife who called 911.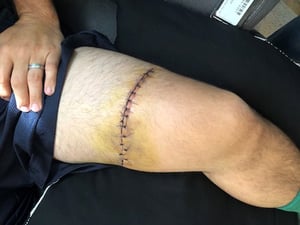 Another family member arrived and helped Porter retrieve his Bleeding Control Kit that he had purchased from ProActive Response Group after completing the training months before. The kit contained a North American Rescue CAT Tourniquet, which Porter applied to his left upper thigh. Doctors at the hospital confirmed that if Clayton had not applied the tourniquet and stopped the bleeding, he would have lost his life.
After hearing Porter's story and realizing that this local teacher had lived out the training he had received from ProActive Response Group, Chad Ayers and Chris Martin, visited Porter and presented him with a new Bleeding Control Kit.
"This is why we do what we do," said Ayers, Co-founder of ProActive Response Group. "We are so glad Anderson School District One took the initiative to equip their teachers and staff with lifesaving training. This is just one example of many where preparedness paid off."