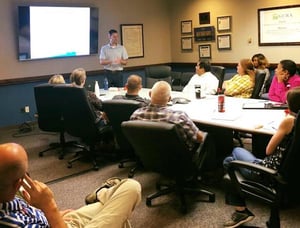 A question our customers often ask us is, why does ProActive Response Group offer Active Shooter Response Training in video format if hands-on training is so critical?
It's a good question, and the answer is found in the simple fact that not every company is able to provide hands-on training to every member of their corporate team. Two things typically stand on the way:
Limited budget
Large workforce
When these barriers are stopping a company from providing their employees with Active Shooter Response Training of any kind, we recommend blended learning.
What is blended learning for corporations?
In the traditional sense, blended learning is an educational strategy that uses multiple formats to teach material.
At ProActive Response Group, we recommend blended learning within an organization. This does not mean that every employee gets trained in multiple formats. Rather, there are two formats available, and every member of your team receives training through one of them.
Here's how it might work in a large organization of 1,000 employees: 200 of your employees may get hands-on training, and the remaining 800 employees would receive online training. At the end of the day, all of your employees have the same foundational training, and in an active shooter event, they will all be prepared to respond effectively with a unified strategy.
How does a company use blended learning effectively?
Now that you know what blended learning is in the context of Active Shooter Response Training, let's dive into how to best use it for your corporate team.
Consider your team's learning styles.
Everyone has different learning styles. Some of your colleagues will learn better with hands-on practice. Others will perform better in a quiet environment where they absorb information at their own pace.
If you're struggling to decide which team members should receive which type of training—hands-on training versus online training—it may be worth offering a companywide assessment to determine each team member's learning style. Using the assessment results, you can determine which training format would be most effective for each individual.
Personality also plays a role in preferred learning formats. Some of your employees may prefer an online training curriculum because it's self-paced and self-directed. Individuals can watch the material and process it at their own pace. They can also go back and review sections of the training without being concerned that they're inconveniencing an entire classroom.
On the other hand, some personalities thrive in the classroom environment where they can:
Ask questions of the instructors
Talk through active shooter scenarios as a group
Receive immediate verbal feedback from instructors
Think preparedness. Let go of politics.
The idea of blended learning scares a lot of companies. They get hung up on the thought of having to choose which employees receive hands-on training and which ones engage in the online curriculum, and they do not want to be held accountable later for making the wrong call.
Our response to this is: The only wrong call you can make is to not provide training at all.
Taking a blended learning approach to Active Shooter Response Training for your corporation is not a workable alternative to hands-on training. It's a highly effective and recommended practice. Together, your team will be more confident and better equipped to respond in the event of workplace violence, an active shooter situation, or any other type of emergency.
Contact ProActive Response Group today to have a conversation about Active Shooter Training for your corporation.