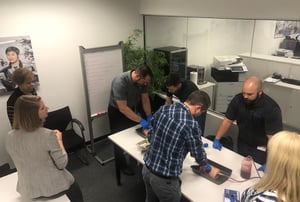 Surviving an active shooter event doesn't have to be based on chance or luck. Survival can be trained, and with the right skills and proactive steps in your back pocket, you can be prepared for something as unpredictable as an active shooter event.
Let's discuss four key pieces of knowledge that really could save your life in an active shooter situation.
Practicing Situational Awareness
Plenty of people are situationally aware. We notice all kinds of things — like when the distracted driver in front of us is texting at the traffic light that just turned green, or when the coworker a few desks away is chewing their lunch just a little too loudly.
These types of observations certainly qualify as situational awareness in some form, but they're not the kinds of observations that would necessarily save your life. The most important part of being situationally aware is knowing what kinds of things to be aware of. You can notice things all day, but if you're not noticing the right things, you're not any safer than the person who's oblivious.
That's where Situational Awareness Training comes in. The right training will walk you through the levels of situational awareness, teach you how to navigate them, and also educate you on what kinds of things you should be noticing in various settings and interactions.
Recognizing the Sound of a Gun
Have you ever heard a gun go off? Most of us assume we've watched enough movies to know what a gun sounds like when we hear it, but the reality is, in active shooter events, most people don't realize the sound they're hearing is a gun until they actually see the shooter.
One of the first things we do in our Onsite Active Shooter Training courses is fire a gun outside the building while our class participants are inside. Most people admit that the gunshot sounded different from what they expected. That's because there are walls and other barriers muffling and distorting the sound. However, it's important to hear the sound in that environment in order to be able to recognize it and respond appropriately in an active shooter event.
Knowing How to Overtake a Gunman
In some active shooter situations, it may not be possible to evacuate the building or escape the shooter. In that type of scenario, knowing how to overtake the gunman could save your life.
Intercepting a weapon is something we teach in our Active Shooter Training classes. This skill is best learned through hands-on practice using a fake gun, but the main tactic to master is to push the barrel of the gun up and back toward the shooter's wrist. This tactic works because the area of the hand between the thumb and pointer finger is incredibly weak, and the shooter will immediately lose his/her grip on the gun.
It should be noted that we never advise people to go hunt a gunman down. However, if you are ever faced with someone who is using a firearm against you, this could be the skill that saves your life. Sign up for an active shooter training class to practice and master it.
Also remember, there is power in numbers. It's easy to forget that when a gunman is in your building, but with the right training, you can leverage this advantage to survive.
Having a Bleeding Control Kit On Hand
Most businesses have first aid kits somewhere on the premises in case of injury. However, a first aid kit will do little to stop severe bleeding from a gunshot wound. Bleeding Control Kits are a must for every workplace, church, and school. Frankly, there's no wrong place to have a Bleeding Control Kit. You should even keep one in your car.
Why are we so passionate about Bleeding Control Kits? Because in the case of an active shooter event, the contents of a Bleed Kit could be the instruments that save your life or someone else's.
Get Trained
What's standing between you and Active Shooter Training? Don't be the person caught in an unexpected emergency wishing they knew what to do. Take action today and schedule a class for yourself or a team.