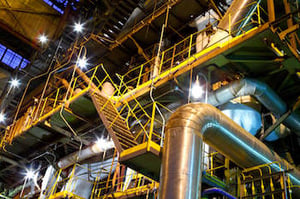 Manufacturing jobs present a unique set of risks. The presence of hazardous materials and heavy machinery set the stage for all sorts of workplace accidents, not to mention the ever-present possibility of an intruder entering your facility and committing an act of violence.
As an employer, it's your job to reduce risk and protect your workers' safety, but with the potential for so many types of accidents, preventing workplace-related injuries is no easy task. However, just because it's difficult doesn't mean it's impossible. Here are 9 ways you can begin guarding your employees' safety:
Standard Safety Procedures
Teach the proper use of tools and equipment.
Most workplace accidents happen when equipment is being used incorrectly or without sufficient training. One of the best ways to ensure that your employees are properly trained on using equipment is by standardizing your training process. There are two important parts of standardized training:
SOP. Establish and distribute SOPs (standard operating procedures) to existing employees and give them to new employees on their first day.
Trained trainers. In order to keep new employees from receiving contradictory or inaccurate instructions during training, they should be trained by an approved trainer who trains each employee consistently according to the SOP. If you rely on all of your employees to collectively train new employees on the job, eventually the instructions being passed along will develop into something much different than the SOP, which results in poor training and increased risk.
Implement added security.
Every manufacturing facility is different and is therefore subject to different risks. Consider some of the security measures listed below and determine which ones are appropriate and necessary for your establishment.
Locked entrances
Employee badges
Guest check-in and check-out
Security cameras
Security guards
Ask workers about safety concerns.
As diligent as managers can be about protecting their workers, it's easy to overlook safety risks for jobs that they're not actually doing. To avoid this mistake, ask your employees what safety concerns they have. Not only will this allow you to more effectively reduce safety risks, but it also strengthens communication between you and your employees by reminding them that you're interested in their feedback.
Keep emergency exits clear.
In a facility where heavy machinery is constantly moved from place to place and equipment is shuffled around or stacked up, blocking exits is an easy mistake to make. Workers must make a conscious effort to keep emergency exits clear and be held accountable for failing to do so.
Emergency Response Preparedness
Increase situational awareness.
Ideally, employees should always be acutely aware of their surroundings; however, as people become more comfortable with their environment, they also become less attentive, and that is when accidents happen. Not only that, but lack of awareness can result in failure to recognize a potential threat such as an intruder intending to commit an act of violence.
Employees should be trained to go about their day with a heightened level of situational awareness in order to reduce risk of injury and also improve threat recognition.
Have a clear defense process.
The last thing you need in an emergency is for everyone on the manufacturing floor to panic, but if a clear defense process has not been established, then that is exactly what will happen. Some may freeze; others may hide; and others might fight. The best way for your team to survive in an emergency is for them to be united in their defense strategy.
Consider implementing the following protocol as your manufacturing facility's defense against active shooters or other emergency crisis situations:
Evacuate if possible. Remember, this requires your team to know where emergency exits are and for all exits to be clear.
Secure your room. If your team cannot safely evacuate, make sure they have a plan for barricading the room to keep intruders out.
Get Bleeding Control Kits and train your team to use them.
Bleeding Control Kits can be used to save the life of someone who experiences a serious injury on the manufacturing floor. Whether the injury was the result of an active shooter or a mechanical failure, the important thing is that all workers know where to find the Bleeding Control Kits and how to use the medical equipment inside so that they can effectively provide aid.
Offer (and require) refresher training.
Emergency response training is much like learning a foreign language. If you take the classes and then never use the material, you'll forget it. Ideally, your manufacturing team will never have to use their emergency response training, but refresher courses will ensure that they are prepared to respond in case the need arises.
Aftermath: Focus on mental safety.
While a crisis may end after a few hours, the emotional effects linger long after the police cars and ambulances leave. It's important to provide care for your workers' emotional and mental well-being after a traumatic event. Here are some things to consider post-crisis:
How long will it take to re-open the facility? What needs to be done?
How long will it take for parties involved to return to normal routine?
Who needs counseling?
Ask us about an Industrial Risk Assessment
Perhaps you'd like a little more information before jumping into a medical training course or active shooter training session. An Industrial Risk Assessment is the perfect place to begin. Start setting your manufacturing facility up for success in case of an emergency by giving us a call at (864) 479-824, or click on the banner to contact us online.